How is it possible that a Laura Ingalls fan could grow up just an hour and a half from Walnut Grove, Minnesota and three hours from De Smet, South Dakota and never get to visit either place as a child? I know exactly why I haven't gotten there as an adult…first of all, I live quite a bit further away now. But more important, I've spent my adult life with three males who, while they're all readers, have zero interest in Laura Ingalls Wilder. So when my second cousins invited me to go with them on a girls' weekend (well, girls plus one 9-year-old boy) to De Smet last weekend, I jumped at the chance. Click
Kathy and Chris were the perfect traveling companions for this particular trip. I've always longed for a sister (no offense, Dave…if you're reading this). I have sisters-in-law…and I have a "soul sista," but no sisters. No first cousins either. Kathy and Chris are the closest thing to cousins I have. I've known them my entire life. So on the one hand, I got a sense of what it must be like to have sisters or cousins to go away with (we told lots of family stories on the way there and back). But the main reason they were the perfect people to take this trip with is their mother was the one who introduced me to the Laura Ingalls Wilder books. I have a very vivid memory of being in their attic bedroom (oh, how I LOVED that attic bedroom they shared!!!!) with them and their mother when I was about six or seven years old. Their mother asked me if I'd ever heard the story of Laura Ingalls Wilder. I said no, so she pulled out a copy of Little House in the Big Woods and told me all about Laura. Then she started reading the book to me. She asked me if I liked it. I said yes. So then she gave me the book she'd been reading from, and a copy of Little House on the Prairie, too, and told me I could keep both books. They were the first chapter books I ever owned. Over the next couple of years, my grandma gave me the rest of the set for birthdays and Christmas until I had them all. I reread them over and over. On the Banks of Plum Creek was my favorite of the set because it took place in Minnesota. I begged and begged my parents to take me to Walnut Grove, Minnesota (I was a huge fan of the TV show, too), but they never did. But FINALLY, I got there on my own (I don't know why I didn't just go on my own long before)!
Kathy and Chris picked me up at my mom's house last Friday. The plan was to take in all the Laura sites in and around De Smet, then see the outdoor pageant Saturday night. Nothing was ever said about Walnut Grove. But as soon as I got in the car with them, the first thing Chris asked me was, "do you want to go to De Smet via Sioux Falls or Walnut Grove?" Well, that was a no-brainer. Walnut Grove, of course!!! Considering they'd just been there last year, I thought it was very nice of them to make the detour for me.
So here I am with Chris's son playing in Plum Creek…yes, the ACTUAL Plum Creek. With all the leeches. Though we didn't see any when we were there. There were little fish, though, swimming past our legs. (You can click on the pictures to make them bigger.)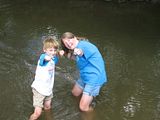 The Ingalls' dugout was located just up the other side of the bank from where we were playing.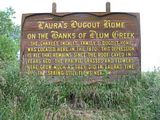 I'd just spent 10 days in Washington, D.C. before this trip (in fact, I was only home for two days in between trips) and was really struck by the difference between Washington, D.C. and Walnut Grove, MN/De Smet, S.D. (I know…duh!)
Washington, D.C. was crowded, expensive (though with the exception of the Newseum, every other museum/tourist site we took in was free), and you didn't go ANYWHERE without going through at least one metal detector.
No metal detectors on the prairie. It was a whole different world from Washington, D.C. We had a bus full of Amish or Mennonite people following us (they were in Walnut Grove and De Smet both!). And a lot of our fellow tourists wore skirts, sunbonnets and braids. I actually felt a little out of place without a sunbonnet (and almost bought one…but where else are you going to wear a sunbonnet???)
Instead of someone standing there to take your money when you head down to the dugout and the creek outside Walnut Grove, you simply put your money in the box by the stop sign.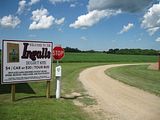 Payment is "on your honor." (So was payment for water bottles in De Smet. In Washington, D.C. there were people selling water bottles on most street corners around the Mall for $3…in De Smet, there'd be a cooler of water and you could just take one and leave your .75 at the office when you leave. Again, completely "on your honor.")
We didn't stay in Walnut Grove very long…there isn't as much to do there as there is in De Smet. Besides the creek and dugout, you can also hike the prairie a little bit…and there's a museum in town. That's about it. There's also an Oleson's Mercantile in Walnut Grove (I wonder if it's actually owned by an Oleson? I would've asked had we gone in there…but we still had a couple hours drive ahead of us.)
I expected De Smet to be a small town, but I didn't expect it to be THIS small. Here's a picture of downtown De Smet (and keep in mind, this is a pageant day…so there are actually people in town!).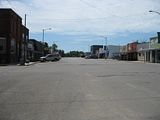 I also have to mention our tour guide. She was a nice young girl who had been home-schooled on her farm about 25 miles away. Her view was that De Smet was the big town in the area…she said, and I quote, "You can get anything in De Smet."
Here's a partial list of things I would've liked, but couldn't get while I was there:
1. Cell phone service (though that could vary depending on your provider)
2. An internet connection (though presumably if you live there, you can get some sort of Internet service)
3. A caramel mocha
4. A vegetarian meal
They did have a library, though. And Chris and I agreed it would be the PERFECT place to teach our teenagers to drive because they have nice wide streets, no traffic, and no stoplights.
Somebody else on the tour asked how far away the closest Walmart was…the tour guide thought it was about 40 miles. Personally, I was happy to be that far from Walmart and all the other chains. And you know…it was okay to be "out of touch" while I was there.
So here are some of the things we saw in De Smet.
The surveyor's house, where the family lived for the winter. Remember, Laura described this as a "mansion" in By the Shores of Silver Lake.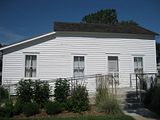 Here's the first school of De Smet (Laura and Carrie went there):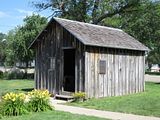 And the Ingalls home that Pa built shortly after Laura and Almanzo married: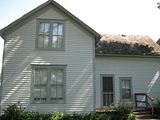 I wonder how many other people take pictures of these restrooms?
…or this pay phone in the restaurant? (We liked the covered wagon look, but were also struck by the fact that this was a working pay phone…you don't see many pay phones anymore. FYI, it costs fifty cents to make a call on this pay phone.)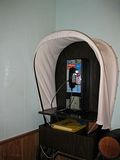 We also went out to the cemetery and saw where Pa, Ma, Laura's baby, and Carrie were buried (sorry about the weird angle…it looks even weirder if I rotate it):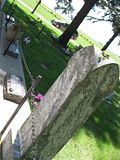 …Grace was buried a little further away from the others.
Imagine my surprise to look up from Grace's tombstone to see a tombstone marked HILLESTAD! (Chris, Kathy and I are all Hillestads…or descendents of Hillestads.) There was a whole group of Hillestads buried there. Chris is the serious genealogist in the family…and to her knowledge we are not actually related to those Hillestads. But we both took pictures of all the graves anyway, just in case we find a link someday.
We also went out to the homestead site: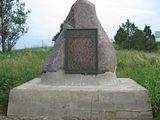 …and we saw a sod house (this is just "a sod house;" it's not even a replica of the Ingalls' house on Plum Creek):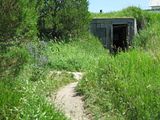 …as well as a replica of the first house Pa built out here (they call it "Ma's house"):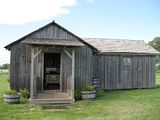 We took a ride in a covered wagon: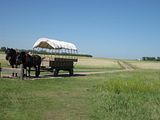 As we headed over to the pageant site, we noticed some clouds coming up, but we were absolutely convinced it wasn't going to rain. It wouldn't dare because then they'd have to cancel the pageant…and, you know, we'd come all this way.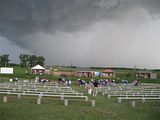 The 9-year-old did not grasp this concept of "it's NOT going to rain." He kept hearing thunder and seeing lightning in those clouds that the rest of us just didn't hear or see.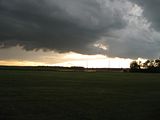 Here's a picture of me after it "didn't rain."
When it was done "not raining," I took this photo of the double rainbow next to Ma's house: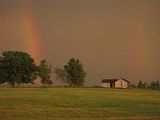 …and this sunset over the prairie (btw, there was nonstop lightning in the opposite direction…it was very strange to see this beautiful sunset to our right and lightning to our left):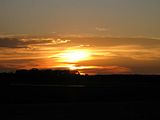 The "not rain" (and "not hail") was over quickly and the pageant folks simply turned over all the benches and the show started on time. They did The First Four Years…I guess they rotate between about four different shows from year to year in De Smet. I wouldn't say it was "professional theater" by any stretch of the imagination. But it was still a lot of fun. (Not to mention CHEAP…tickets were only $8!) We sat in lawn chairs that my cousins brought and propped our feet up on the benches provided by the pageant folks and cuddled up under a blanket (it got chilly after the sun went down…especially when we were all sort of wet from the "not rain"). Lightning flashed in the north sky through the entire pageant, which sort of added to the ambiance.
Here I am with my cousins (as you can see, I changed shirts because for some reason I got really, really wet in the "not rain"):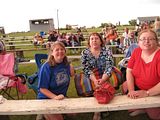 Look behind us…that's a "crowd" in De Smet. Just for fun, this is what a "crowd" looks like in Washington, D.C.: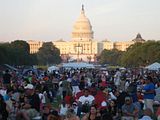 Like I said, just a slight difference between De Smet and Washington, D.C.
So now that I've seen Walnut Grove and De Smet, I'm especially anxious to visit Burr Oak, Iowa; Mansfield, Missouri; and Pepin, Wisconsin (though I understand there isn't much to see in Pepin). Anyone wanna road trip with me???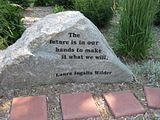 Visiting the Laura Ingalls Wilder sites in Walnut Grove and De Smet